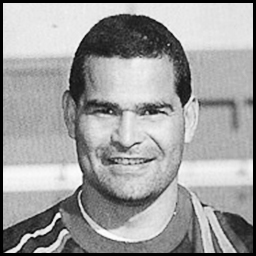 a.k.a: El Buldog
Occupation: Goalkeeper
Born: 1965
Died: Not Yet
Brief Description:
Jose Luis Chilavert grew up in Luque, Gran Asuncion in a poor family. He made his footballing debut with Sportivo Luqueño. In 1989, he played for the Paraguayan national team for the first time. He later moved to Spain, where he played for Real Zaragoza. After his time at Real Zaragoza, he moved to Argentina, where he played with Vélez Sársfield, helping them win the Primera División four times, as well as the Copa Libertadores and the Intercontinental Cup, both in 1994. He later also played for RC Strasbourg and Peñarol.
Chilavert was voted World Goalkeeper of the Year by the IFFHS in 1995, 1997, and 1998.
Chilavert was famous for taking penalty kicks and free kicks. He participated in the 1998 World Cup, where he became the first goalkeeper ever to take a direct free kick in the World Cup finals. In that World Cup, he helped take Paraguay to the round of sixteen, where the team lost to France (who won that World Cup) on a golden goal scored by Laurent Blanc. And in 1999, he became the first goalkeeper known to score a hat-trick in the history of professional football, while playing for Vélez against Ferro Carril Oeste, scoring all three goals through penalties. In total, Chilavert achieved a goalkeeper record of eight international goals and is also the second-highest goalscoring goalkeeper of all time.
He retired from international football in 2003.
Why he's on the list:
As the 2022 World Cup is approaching, I find it appropriate timing to share this post.
Since my childhood, I have had special affinity for goalkeepers, so I wanted to choose one as a representative for this position on my list.
Being a goalkeeper is a position that requires agility and fast reflexes, two qualities I have always admired. Great goalkeepers also tend to have great instincts, often having to take decisive actions in a split of a second. And the best goalkeepers are also great leaders (and as such, often their team captains) and the team often looks up to them for confidence and comfort.
And so, when I was 12 years old, watching the 1998 World Cup, I was impressed by this unconventional goalkeeper playing for an underdog team and performing very well against all odds. Since then, he became my favorite.
Finally, I would like to end this post with a special shout-out to Gianluigi Buffon and Iker Casillas who were close alternatives to being the goalkeeper representative on my list.