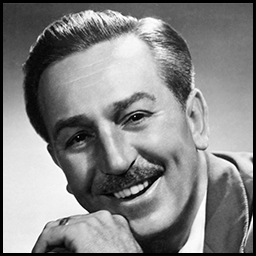 a.k.a: Walt
Occupation: Animator
Born: 1901
Died: 1966
Brief Description:
Walt Disney was the fourth son of Elias Disney, a carpenter, farmer and building contractor and his wife, Flora Call, a school teacher. When Walt was still very young, his family moved to a farm near a typical small Midwestern town in Missouri, which is said to be the inspiration behind Disneyland's Main Street. There, Walt began his schooling and first showed aptitude for drawing and painting.
His father soon abandoned farming and moved with his family to Kansas City where he bought a morning newspaper route and compelled his sons to assist him in delivering papers which instilled discipline in them in the process. Walt also began to study art and cartooning while in Kansas City and continued doing so in high school after he had moved back to Chicago.
His career plans were interrupted by World War I, in which he participated as an ambulance driver for the American Red Cross in France and Germany.
Returning to Kansas City in 1919, he found occasional employment as a draftsman and inker in commercial art studios, where he met Ub Iwerks, a young artist with whom he eventually started a small studio in 1922 but was force to file for bankruptcy one year later.
After moving to California, Walt reopened a studio there with Ub and his brother, Roy. They invented a character called Oswald, the Lucky Rabbit, but soon after, they came up with a new character, a cheerful, energetic and mischievous mouse called Mickey. The first Mickey Mouse cartoon, Steamboat Willie, was equipped with voices and music and became an instant sensation when it appeared in 1928.
Disney continued with his animation shorts, creating a new series called Silly Symphonies as well as many new anthropomorphized animal characters like Donald Duck and Goofy and adding color to his animations. But Walt Disney always wanted to push the limits and had long thought of producing a feature-length animated film. So in 1934, he began to work on Snow White and the Seven Dwarfs. The success of Snow White paved the way for many more feature-length animations and live-action/animation hybrids which established the Disney studio as a big-business enterprise.
In the early 1950s, Disney had initiated plans for a huge amusement park to be built near Los Angeles. Disneyland opened in 1955. The success of the first Disneyland pushed Walt to create a second Disney park, Walt Disney World, near Orlando but Walt Disney died in 1966 while the park was still under construction.
Why he's on the list:
Walt Disney's imagination and vision paired with his technical knowledge makes him a true genius and a visionary capable of mesmerizing his audience. He was also undeniably a huge influence on many other studios and the animation field as a whole, even influencing the Japanese anime style. And in the true spirit of pioneers, he kept pushing the limits of the possible whether it was through his animations or through his theme park.
I grew up watching Disney animations. I've watched all Disney animated features (there are more than you think) and a big portion of their animated short films. And to this day, they're the ones I like the most. And while I haven't created any outstanding work (yet), I am often told to this day that I have a great imagination and a childlike spirit and I think it's largely due to Disney's influence on my childhood.
To conclude, I will end this post with a fun trivia fact:
Walt Disney holds the record for winning the most Academy Awards, 22, as well as the most Academy Awards nominations, 59.
And now, he also holds a spot on my list. =)